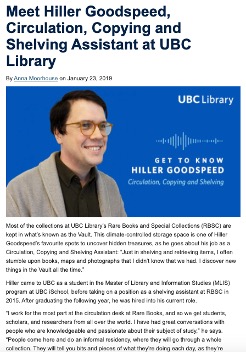 This is an interview series that profiles library employees and librarians working at UBC Library, which I co-created with my colleague, Katya Roxas, from April 2018 to June 2019.
This series offers a unique, behind-the-scenes look at life in the various library branches at the University of British Columbia's Vancouver campus.
Each profile focused on an individual employee, creating a narrative that touched on the employee's day-to-day work, notable projects, and their life outside the library. The stories emerge from live interviews that were all done in-person on campus.
A selection of some of the stories I wrote for the series:
Social Media Promotion
We used video clips with audio recorded during the interviews and embedded captions to promote this series on the library's social media channels. The social posts are used to drive traffic to the blog posts on the UBC Library website.

Landing Page
The landing page for the series that I created functions as both a human resources recruitment tool, to showcase the library's work culture, a place to highlight for the rest of the UBC community the great variety and depth of work being done at the library, and also a way for library colleagues to celebrate each other's achievements and get to know each other better. The series has become very popular on internal channels, like the employee newsletter.