---
This post was originally published by the University of British Columbia Library.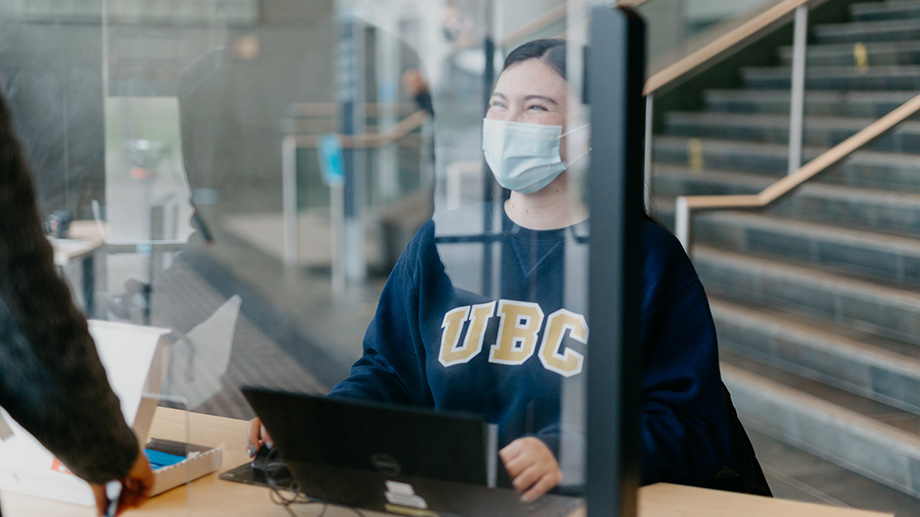 As one of the only study spaces currently open at UBC, the Irving K. Barber Learning Centre (IKBLC) has been a popular campus destination for currently-registered students, faculty and staff with a valid UBC card. Rigorous safety and cleaning protocols, physical distancing measures, and an active security presence have made it possible to provide this essential space.
Navigating new territory
"We've had a really great response from students," says Julie Mitchell, Associate University Librarian and Director of the Irving K. Barber Learning Centre. Since the building re-opened on September 8, 2020, Mitchell and her team have seen study space bookings steadily increase, topping nearly 20,000 total for the first term, with an average of more than 1,500 bookings per week.
In December, the Library did a survey with more than 400 students who had previously booked study spaces, and Mitchell discovered that over 50% of students were planning to write their exams at IKBLC: "That's been a game changer for us, especially when it came to planning for exam hours." The team at IKBLC studied the university's exam schedule to make sure the building would be open early enough—and late enough—for students who needed a safe, quiet space to take their exams.
"Normally, we have a clear view of the student cycle. But this whole year has been new territory, so we're having to actively monitor, week-by-week, to make sure that we are responding to student needs," says Mitchell, whose team still meets regularly to discuss student feedback and make changes as new challenges arise.
Developing creative solutions to practical student needs
One such challenge was printing. Not long after IKBLC re-opened, the Library team realized that there were many people coming to the building not to study, but to simply access the printers. The Printing Pick-Up Service launched in October, using the Pay-for-Print platform already in place, and adding a service layer where print jobs are retrieved by student staff and brought to the front door, without students having to make a booking. This service has helped over 1,000 students print more than 7,500 pages.
About mid-way through the winter term, another major adjustment was made, this time to the staffing of the front desk. Emma MacFarlane, Learning Commons Coordinator at the Chapman Learning Commons (CLC) recalls: "We realized that a ton of referrals were happening at the front door, whereas in the past, that would always happen up at the CLC desk." Library users would come in with questions about printing, book returns and academic resource help, that front door security staff weren't able to answer. In response, Mitchell and her team hired student staff to provide peer-to-peer assistance, check patrons in and provide referrals, with security in a support role nearby.
"The student staff are basically the front door to the library, at this point," says Alex Kuskowski, Learning Services Librarian at CLC, referring to the students who work as IKBLC Assistants at the front desk and as CLC Assistants at the Help Desk on Level 3. "They help students acclimate to our space with a friendly face."
A proven model for what comes next
The team at IKBLC is looking ahead to a planned return to on-campus activity in September 2021, with a project management planning team in place to figure out how to reopen the space further under new guidelines.